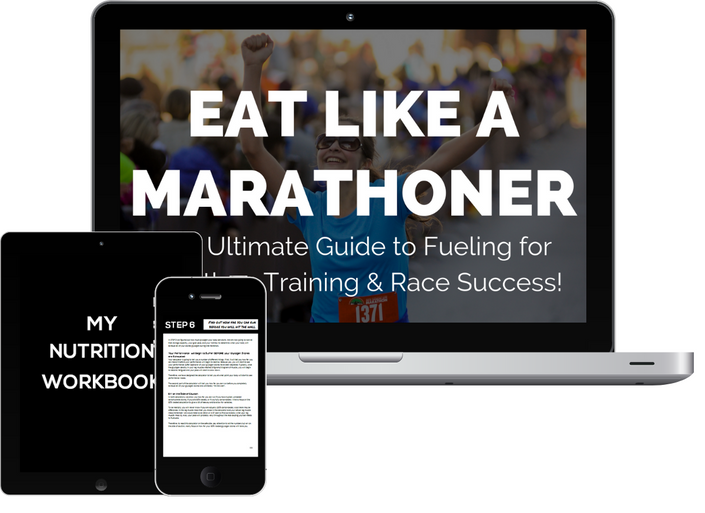 EAT LIKE A MARATHONER
The Ultimate Guide to Eating and Fueling for Marathon Training & Race Success!
Give your body what it needs to train and run a marathon.

It's not worth all of your time, training, all of your long runs, and high mileage weeks if you are not fueling properly and implementing nutritional techniques specific to your body and what it needs to run a marathon.
You have one shot to get it right.
Here is why every marathoner needs this course:

Every year, 40% of all marathoners who start a marathon race will experience some level of glycogen depletion, a.k.a. "hitting the wall".
Out of that 40%, two-fifths will be forced to drop out of the marathon all together.
All that hard training over the course of days, weeks, and months, are flushed away in a matter of hours.
If we did put in the appropriate training, the biggest factor to blame is our nutrition.
If we have properly trained, it comes down to the question of, "Are you giving your body enough fuel to power your marathon at the pace that you want to run?"
It's hard to know if you are giving your body enough fuel if you are following generalized nutrition guidelines.
You need something more personalized, a plan for YOUR body, and YOUR needs, for YOU to follow.
And this is exactly what this kit will do for you.
Through the accompanying workbook, course sections, and the calculators included in this course, derived from Harvard Researcher Benjamin Rapoport and Exercise Physiologists, William McArdle and Scott Powers, you will calculate and develop your own personalized marathon training and race nutrition plan.
Here are some of the benefits of going through EAT LIKE A MARATHONER:
Develop an effective personal marathon nutrition plan to use during training

Customized to your body, your goal race pace, and your intensity

Design a carbo-loading plan to fuel your goals

The ability to meet your goal pace times

Make your long runs feel easier!

Push back your time it takes you to reach fatigue in a run

Avoid hitting the wall during your marathon!

Reach the marathon finish line feeling strong and powerful!

By personalized, I mean that you will get a 9 STEP PLAN that will help you figure out:

Your fitness level through a VO2 test in order to determine your energy/fuel needs when running.

What your maximum sustainable running pace is for your fitness level. This will help you choose healthy, realistic paces to run at and to determine how much fuel you will need at that pace. Ultimately, you will crush those time goals and finish the marathon strong and with a smile!

Find out how many carbs and fats you are burning throughout the race so that you can effectively refuel.

Your glycogen (carbohydrate) storage capacity on a typical day and when fully carbo-loaded.

When you will exhaust your glycogen stores (whether you have carbo-loaded or have not carbo-loaded before a race) and therefore, at what mile you will "hit the wall" during the marathon based off of your fuel storage.

Develop your personal race refuel plan to absolutely avoid hitting the wall.

WE WILL ALSO TALK ABOUT:
what we burn as fuel when we run long and short distances

which foods are the best for us as a runner

what kinds of foods we should eat

what is optimal fue

l for a runner

find our personalized nutritional needs as a runner

how to menu plan for successful eating habits

how to fuel specifically before, during, and after long and short runs

how many carbs YOUR body can store

what mile YOU will hit the wall based on your profile

how to come up with a solid race refuel plan

two different carbo-loading plans to choose from before a marathon

what your pre-race meal should look like

what your marathon recovery should look like from the nutritional aspect

This workbook provides you with:
a space to record your profile information

space to work through your personalized 9 STEP Marathon Nutrition Prep Plan

your menu planning & shopping list printables

a good foods shopping list

quick snack & meal ideas

cheat sheets for when, how, and what to eat before, during, and after a long run and a short run

a high carbohydrate foods list

your carbo-loading guidelines and planning space

pre-race meal guidelines and planning space

and how to recover nutritionally after a race
IS EAT LIKE A MARATHONER FOR YOU?
Are you in training for a half marathon or especially a marathon?

Are you training for a time goal? (even more important then to nail your nutrition!)

Do you want to give your body exactly what it needs in order to be successful at long distance running?

Are you worried that by consuming a high carbohydrate diet as a runner you will put on weight?

Do you want to feel great and eat like a marathoner should eat?

Do you want to get your "one shot" right?
If you nodded your head then this course is for you!
HERE'S WHAT OTHER MARATHONERS SAY ABOUT THIS PROGRAM: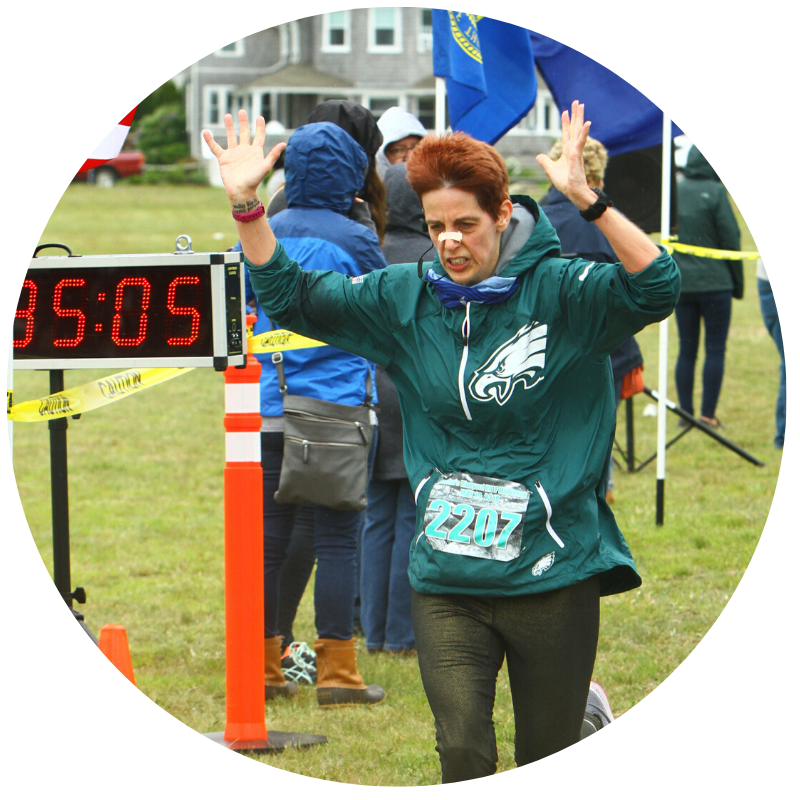 "I tend to think in black and white, so having things spelled out for me (foods, when to eat, why to eat it) took all the guesswork out of nutrition. This is an area where I struggle racing or not.
It was the next best thing to hiring a nutritionist! I especially needed the carb-loading prior and replacing carbs lost during the race. Having specific foods and a schedule made it easy!"
- Kyle Wendy
"I purchased your "Eat Like a Marathoner" Plan and it was SO helpful. I used your tips for nutrition for the last half marathon I did, and I had my best race to date and I have YOU to thank for that!"
- Alyssa
"During previous running experience (19 years ago) I did not fuel at all for my running including a marathon. This information is absolutely important to me as I am older now and I will have a better experience based on the information provided. Specifically the areas of what foods are needed, how much (calculators) and when!"
- Viki

Your Instructor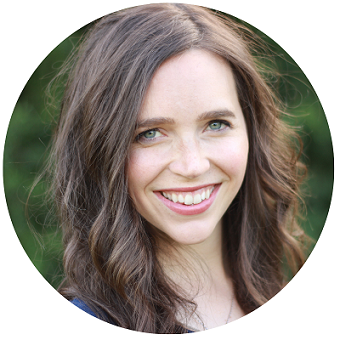 Hi! I'm Molly, from All About Marathon Training. I coach marathoners and half marathoners through personalized plans and self training tools. With 6 marathons under my belt and and B.S. in Kinesiology with a focus in Exercise Science, I'm excited to help you achieve all of your running dreams!
Course Curriculum
Let's Get Started!
Available in days
days after you enroll
Understanding Nutrition
Available in days
days after you enroll
SAYING YES TO EAT LIKE A MARATHONER IS JUST LIKE HIRING A PERSONAL NUTRITION COACH BUT AT THE FRACTION OF THE COST!
Through our calculators and guided information steps you will develop your own personal nutritional plan that is going to have you marathon ready for your big day.
By implementing the 9 Step Plan (which takes minimal time to complete once you know your fitness level) you will quickly be able to develop your race refuel plan and your race recovery nutritional plan.
By implementing the 2 Step Prep Plan the week before your marathon you will have your own personal carbo-loading plan and your pre-race meal planned for your body and your marathon goals! What exactly does this mean?
This means that come race morning you will KNOW that you have fueled and primed your body for marathon race day success!
There will be no second guessing.
You will be confident in knowing that you have adequately prepped for the race and that you know how to continue fueling during the race to reach that finish line that you have worked so hard for!
Failing to plan is planning to fail but that is not what you settled for!
I would hate for you to spend so many hours out there logging the miles, putting in the running workouts, and checking off those long runs only to have you leave one of the most important marathon training elements, your nutrition, on the table.
Choosing to be unintentional with your pre-race week nutrition can be disastrous from the moment you wake up on race morning.
It will show in those early miles, self-doubt will easily find it's way in.
The worst thing that can go wrong during your marathon is to hit that wall and be forced to either drop out or painfully continue walking or slow paced jogging on but that can be completely avoided through proper nutrition the week before your race and during the race itself!
Let EAT LIKE A MARATHONER do the work for you!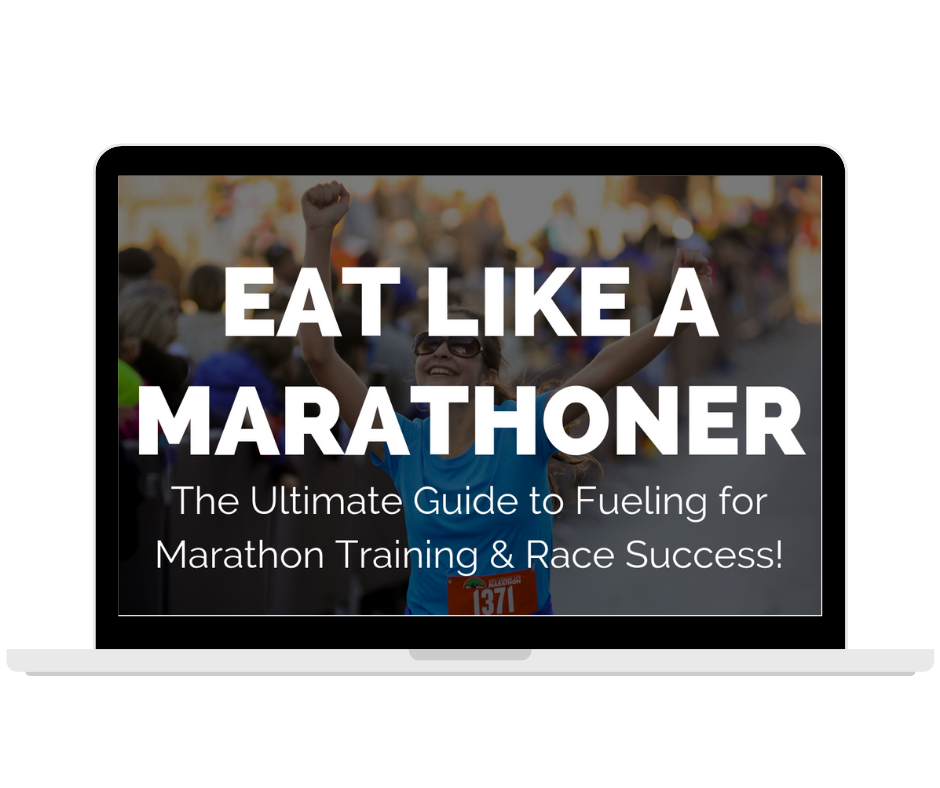 Frequently Asked Questions
When does the course start and finish?
The course starts now and never ends! It is a completely self-paced online course - you decide when you start and when you finish.
Here's what I recommend though: If you are just starting out on your marathon training journey, go through EAT LIKE A MARATHONER and hone in on your training diet. Learn the why and how of fueling yourself for training success.
If you are in the later stages of your training or even 1-2 weeks from your marathon race date then jump straight to the included "9 Step Nutrition PREP WORK Plan to Fully Prepare You for Your Marathon" to come up with your nutritional strategy for race day! Finally, the week before your marathon, implement the 2-Step Plan and you'll be all set to crush it and feel great come race day!
How long do I have access to the course?
How does lifetime access sound? After enrolling, you have unlimited access to this course for as long as you like - across any and all devices you own. You will be able to go back and use the calculators at any time for any future training cycle and race!
What if I am unhappy with the course?
We would never want you to be unhappy! If you are unsatisfied with your purchase, contact us in the first 30 days and we will give you a full refund.